Microsoft Image Composer 1.5
Download Page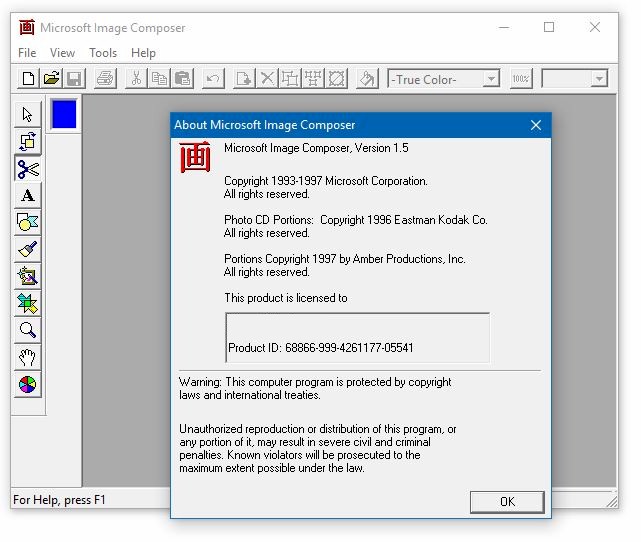 A free and public reference for fans of this classic 1990's image editing suite. Simple, elegant and still extremely capable, it was discontinued by Microsoft many years ago. Thanks to archive.org the original FrontPage98 CD is now public domain and this page has been created by me, to make life a little easier for anyone else trying to locate an installable, safe and original copy of this program. You can now download and install Image Composer on most current and legacy Windows operating systems.
Infact Paul from Windsor, Connecticut emailed me today (15.3.2019) confirming he has it working on not only Windows 10, but on his Apple MacBookPro (High Sierra OS) running Windows though Parallels Desktop 14.
If you have not come across Image Composer before and you have found Paint Shop and other image editing tools to have too steep a learning curve, then Image Composer may well still give you everything you need.
Original ISO File
Image Composer was originally bundled with Microsoft FrontPage, a web authoring tool long since discontinued. Image Composer 1.0 came with FrontPage 97 and Image Composer 1.5 shipped with FrontPage 98. The original ISO file for this CD can be found on the following web-page:

https://archive.org/details/Microsoft_FrontPage_98_-_Win95_Eng

If you are familiar with mounting ISO files this may be all you need, If not then we have copied the relevent folder from the CD and saved it here on our website. The instructions for installation are below. Copyright remains with the publisher so please refer to any conditions on the website above.

FrontPage98 is detailed on Wiki https://en.wikipedia.org/wiki/Microsoft_FrontPage though the article fails to even mention Image Composer.
Extracted installer for Image Composer
To install Image Composer simply follow these instrutions:

1) Download this file folder.zip and save it to your hard drive
2) Locate the file and extract the contents (right click and extract-all)
3) Open the folder named enu (this is the English version)*
4) Run setup.exe and install

A full list if files and folder names can be viewed here

* Sprechen sie Deutsch ? A German version is also supplied in the deu folder if you prefer.
Installation issues
Currently this has worked perfectly on a Windows 10 64-Bit system, though on an identical system the application was unable to open PNG files. This has not been resolved so far. You may also want to install 'as administrator' though I have had equal success installing without this.
Eye-dropper Colour Sampling Problem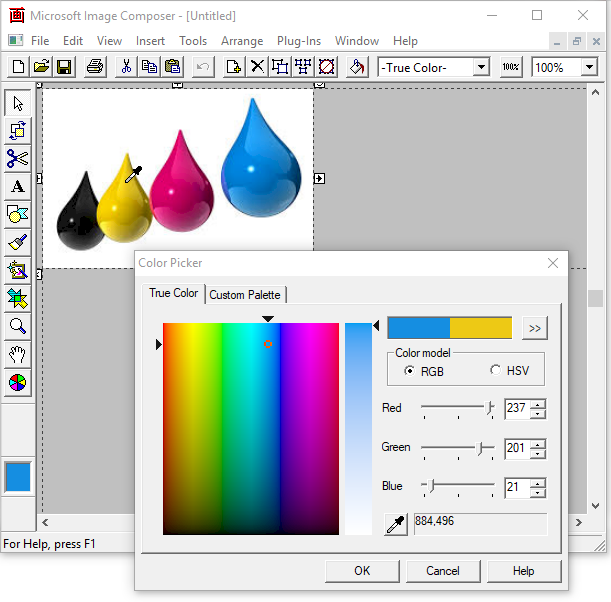 For quite some time I was unable to accurately sample colour from a part of the image. There were no direct search results for Image Composer not sampling colours accurately using the eye-dropper tool.
After a lot of experimentation, it was evident that Windows 10 was the culprit. No surprises there.
The solution was as follows:
Using File Explorer, locate imgcomp.exe, usually in C:\Program Files (x86)\Microsoft Image Composer
Right-click and choose Properties > Compatibility
Select Change High DPI Settings.
Tick High DPI scaling behaviour.
Press OK to Save.
If this doesn't work for you, or you find an alternative solution please let me know and I will publish your suggestion here.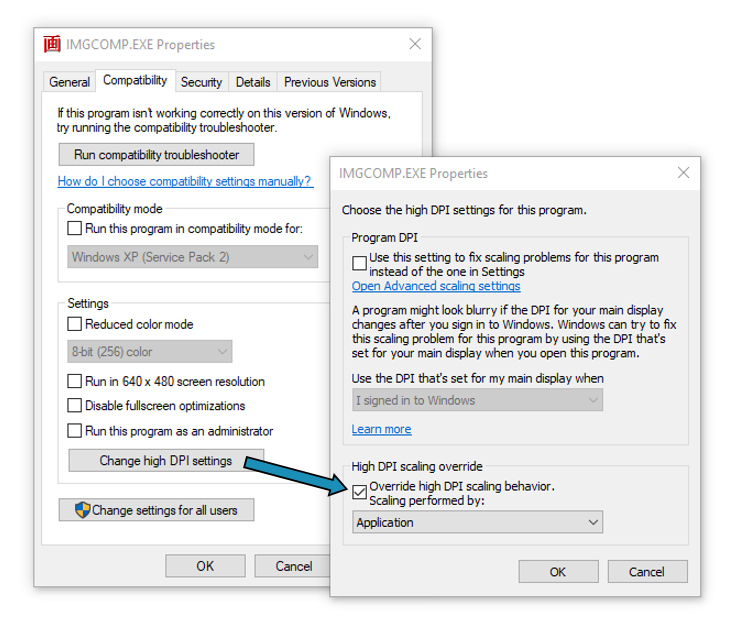 Help File no longer available
That's correct. See Microsoft's Support page here. They say "The Windows Help program is not supported in Windows 10, Windows Server 2012 or later versions of Windows Server. The Windows Help program is available for Windows Vista, 7, 8 and 8.1 only. Microsoft strongly recommends that software developers discontinue using the Windows Help application". There appears to be a number of possible solutions online, however none of them are simple or effective. The best I can offer at this stage is a conversion of the .hlp file to PDF, along with a collection of all the originally embedded images from the Windows 98 / XP Help File.
IMGCOMP_Help_and_Images.zip (contains IMGCOMP.pdf and 717 bitmap images)
Google Ranking
I am absolutely delighted that this page ranks #1 for the search "Image Composer 1.5", and very highly for terms like "Image Composer", imgcomp and imgcomp.exe. It's also on the first page or two for simply Image Composer. Makes the effort so much more rewarding. Cottontech is a privately owned domain by the author. Anyone feeling compelled to express their support financially is welcomed (but by no means obligated). You can PayPalMe here paypal.me/imagecomposer
Thank you !
I do hope this page is a pleasant find for you. I first installed Image Composer over 20 years ago and it still remains my favourite tool to manipulating images, and going from comments on the internet I am not alone. Please let me know if you do find this useful in the comments section below. Thankyou : )
About Us
| | |
| --- | --- |
| Cottontech Pty Ltd (est. 1998) is a Brisbane based specialist technology vendor supplying Dell, Fuji Xerox and other solutions to businesses of all sizes. The author is Stewart Wood | |